Friends and fellow cachers "SBlookers" sent me a picture of a super fun cache they recently found.  SBlookers (at least Pappa Looker) and I have nabbed caches all over the country and even found a few abroad!
This cache is one of the reasons I love geocaching:  a cool cache highlighting a cool place.  Geocache BB-61 USS IOWA highlights a retired battleship moored in the Port of Los Angeles.  This cache has 62 finds and 17 favorites in only 6 months of being active!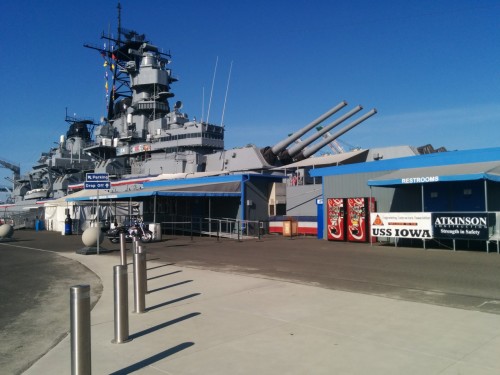 Here is how SBlookers earned this smiley:
My parents and I were in San Pedro and we decided to see what geocaches were around us. We loaded the app and it showed one right down the street near the USS Iowa. We followed the bearing to the cache and we ended up in the parking lot of the Iowa. Lucky for us the ship was just closing and most of the visitors were driving away. This was a big help, so we parked right close to GZ.

I walked all around GZ using the coordinates on my phone, but the distance wasn't lining up. I had read the cache description so I knew I was looking for a magnetic bison tube, but I had no clue where it could be after looking in all the usual places. So I went back to the car to get my Dad. We walked back to the area where the coordinates told us to go.

We were still baffled until we re-read the hint and the description again – it said the code was the year the USS Iowa was deployed. With that hint in mind we glanced over towards the fence and saw this somewhat out of place electrical box with a lock. We walked over to it, put in the four-digit code from the history of the Iowa that was posted in the cache description and -snap- the lock opened   Inside the box were many trinkets and the bison tube I was looking for earlier with an old log still in it. The new container, the electrical box, looked great and worked well. This was a fun find and a pretty clever and amazing geocache to find.
Oh yeah, that super secret geocaching tip I promised:  Don't forget to read the full cache description!
SPOILER ALERT:  Cache container and location revealed!