Woot woot!  What a way to start the year, an FTF on January 1st!
A local cacher had hidden a string of caches in a nearby park on 12/28 and I was unable to get to them.  Finally I had a day off, so I checked the cache pages and they were still unfound.  We loaded up and headed out.
A quick 10 minute drive landed us in the first GZ with high hopes.  Kiddo and I hopped out and arg… fresh foot prints in the dirt.  My heart sank.  We quickly found the cache container and sure enough we had been beaten to the first to find by cacher CanyonWildcat.
But not all hope was lost.  There were six caches in the series, maybe there was still a chance.  We headed over to the 2nd GZ and as I wandered around in circles waiting for my GPSr to center I was approached by a man with a smile, it was CanyonWildcat!
We talked a bit and he had only found the first two, so we cut the conversation short and headed off some more FTF's!  He went left and I to the right.  I DNF'ed the next cache, but pressed on and finally came up with a clean log sheeting waiting for my signature.
The cache was CS20 – Another Rocky Bison and it was a fun find indeed!  Difficulty was 1.5 which might be a little low if one had not seen this kind of hide before, but with the title and hint it made for a great FTF to start the year.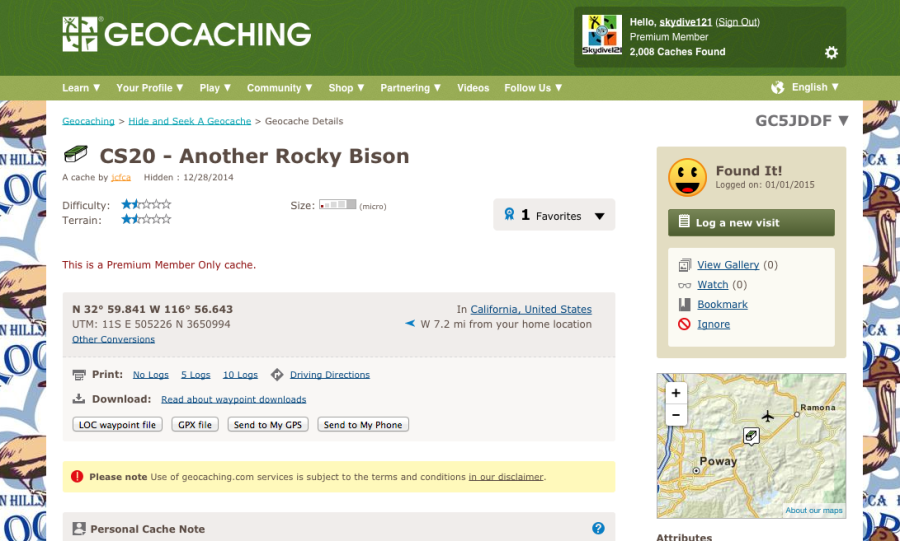 SEVERE SPOILER ALERT: cache container and location revealed below!